WINTransceiver
Functional Description
Click on parts to view parts description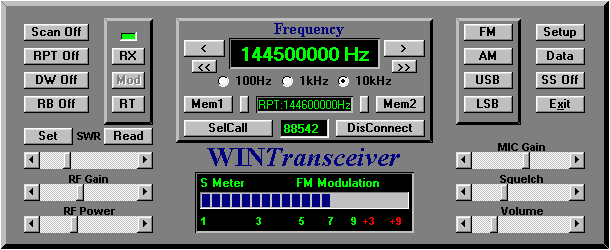 Scan
Click on this button to start or stop Scan. When Scan is started, you can use < Scan Down or > Scan Upp to select Scan direction. You can also use << Step 1MHz Down or >> Step 1MHz Upp to step 1MHz Down or Upp.

RPT - Repeater or Split
Select desired transmitting frequency and click RPT. Then select desired listning frequency. When TX buttun is activated the transmitter vil transmit on RPT-frequency but receive at receiving-frequency.

DW - Dual Watch
Select desired DW-frequency and click DW. The receiver will now survailence the DW-frequency every 5. seconds.

Roger Beep
Click on RB button to activate Roger Beep.

Set SWR
Click on Set button to activate SWR-Set. Then adjust the SWR-Slider to the mark. Then click on Set button to leave the Set-mode. You can now click Read button to read an adjust SWR. In this mode the transmitter will transmit with 1 Watt carrier.

Read SWR Click on Read button to read SWR. In this mode the transmitter will transmit with 1 Watt carrier.

SWR Slider
Click on Set button and adjust SWR-Slider to the mark in display.

RF Gain
Adjust the slider for desired RF Gain.

RF Power
Adjust the slider for desired RF Power (Max. 30 Watt for AM/FM and 50 Watt for SSB).

TX / RX Switch
This TX / RX Switch is normally activated from the Michrophone PTT-Switch.

Read Modulation
When the radio are in TX-mode, this switch can setting the meter to read modulation (from microphone).

< Step / Scan Down
> Step / Scan Upp
This switch are using to step Upp or Down. If the radio are in Scanning mode, this switch are using to select the scanning direction, Scanning Upp og Scanning Down.

<< Step 1MHz Down
>> Step 1MHz Upp
This switch are used to step 1MHz Upp or 1MHz Down. This is not affect the scanning direction.

Memory
Click on this will activated the memory (Memory 1 or Memory 2).

Add to Memory or Remove from Memory
If the radio is in normal mode, you can move the current frequency to Memory.
If the radio is in Memory mode, you can remove the current frequency from memory.

Select frequency Step
You can select the frequency step in 100Hz, 1kHz or 10kHz step.

SelCall
Aktivating 5-tone SelCall (CCIR, ZVEI, NATEL or EEA-tones)

SelCall Display
Type in SelCall number (Max. 5 digit)

DisConnect
DisConnect from Repeater (Sending R-Tone)

RT - Repeater Tone
Connect / DisConnect from Repeater (Sending 1750Hz)

Spectrum Scoope



Scanning of 0.5MHz frequency band in 100Hz step from selected frequency.
The current cursor Spectrum Frequency displays on the "SS" display.
Click on the Spectrum Scoope to tune to the selected frequency.

Select Modulation
Select modulation between FM-Modulation AM-Modulation USB-Modulation or LSB-Modulation.

Exit
Exit WINTransceiver program.

Microphone Gain
Adjust Microphone gain.

Squelch
Adjust Squelch.

Speaker Volume
Adjust Volume.

Setup


ComPort:
Choose Demonstration Mode or Communication Port where WINTransceiver Radio Module is connected.

Radio Module:
HF Band cover from 15MHz to 30MHz.
VHF Low Band cover from 40MHz to 75MHz.
VHF High Band cover from 130MHz to 175MHz.
Choose lowest and highest frequency with Select Frequency.

Select SelCall:
Select between CCIR, ZVEI, NATEL or EEA 5-tone SelCall.

Select Modulation:
Choose FM (Frequency Modulation), AM (Amlitude Modulation), USB (Upper Side Band Modulation) or LSB (Lower Side Band Modulation).

New PassWord:


Select new PassWord betveen letters and digit. If PassWord is set to "WINTransceiver", the PassWord form is disabled.

ComPort and SoundCard Status:
When Click on DemoMode it will check if WINTransceiver compatible SoundCard is connected.
When Click on ComPort it will check the Communication Port`s status.

Data Communication


Menu for Data-file transmitting and receiving


OnLine Data Communication


Windows for OnLine chat.