WINTransceiver
WINTransceiver brings the excitement of radio transmitting and receiving to your computer!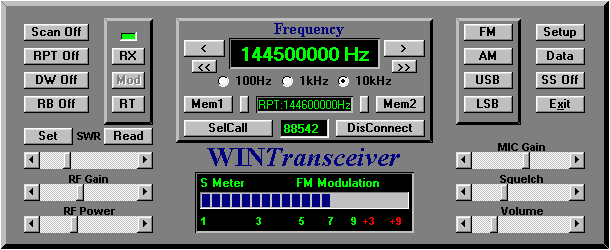 The WINTransceiver transmitter and receiver puts advanced radio transceiving technology directly on a personal computer platform, to create a complete radio communication system. An intuitive user interface and context-sensitive controls make it easy and fun to use.

WINTransceiver computerbased wideband radio communications tranceivers is developed for professional and amateur applications.
This tranceiver is intended for government, military, security, surveillance and industrial applications.

The integration of a communications tranceiver and a PC pioneered by WINTransceiver has brought about an increasing number of functions and features that have never been available on a radio transceiver before. The WINTransceiver software contains numerous advanced features, many tuning and scanning options, large memories capacitys and a rich on-line help facility.
In the standard software it is possible to set frequency-band, datacommunication, SelCall funtions and more.

Custom design is easely by adding or removing software-modules to WINTransceiver standard software. The software runs and controlling all the transceiver functions, so all functions can be modificated in the PC-software.
In addition to standard products, we also provide custom solutions for specialized PC-based radiocommunication applications.
Our customized solutions can be used in many specialized surveillance, industrial and monitoring applications.
We have big enough experience to have the necessary know-how and facilities, and small enough to be flexible for our customers.

We continues to develop the product by adding new features and improving the software. Updating your transceiver is as simple as downloading the latest software!

The WINTransceiver hardware and software is a low-cost transmitter and receiver systems.

---
KommunikasjonsSenteret
Mobile Phone (047) 90515278
E-MAIL: radio@wintransceiver.com
---
WINTransceiver ©
Copyright © All rights reserved.