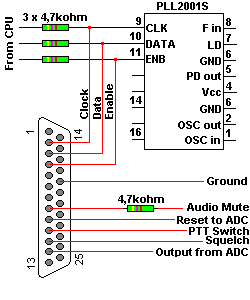 You have to do some small modification around the PLL2001S PLL-Circuit (IC1). Cut the traces to Data, CLK and ENB inputs on the PLL and insert 3 pcs. 4,7kW resistors across the cutted traces. This is to protect the CPU from be destroyed when the radio is connected to the PC printerport.



Analog to Digital Converter
To use the Spectrum Scoope you will need a AnalogDigitalConverter.
This is a simple ADC for reading the S-meter value. Connect the S-Meter signal to the Input, and the Output to the PaperEnd signal and Reset to Data 7 on the printerport.
Use a BC107 or similar NPN Transistor (Not critical).